on Thu Mar 08, 2018 3:02 pm
FAMOUS TEMPLES OF PURI :  Temples outside of Puri
SIRULI MAHAVIR


Destination Summary
~ Famous for Temple of Lord Hanuman
~ Nearest Attractions ~~~~~ Sakhigopal, Raghurajpur, Pipili
~ Country ~~~~~ ~~~~~ India
~ State ~~~~~ ~~~~~  Odisha
~ Located at Eastern Coast of Odisha
~ Distance From Bhubaneswar~~~~~  75 KM
~ Distance From Puri ~~~~~ 33 KM
~ Mode of Transport Road ~~~~~ (Bus and Taxi)
~ Nearest Airport Bhubaneswar - ~~~~~ 75 KM
~ Best Time to Visit ~~~~~  Round the Year
~ Local Language ~~~~~ Odia
~ Other languages ~~~~~  Hindi, Bengali and English

A classic tourist destination of India, Puri is largely a pilgrim place, a religious centre, a holy land of Lord Jagannath - The Lord of the Universe. Lord Hanuman is widely worshipped in Odisha. Siruli Mahavir near Puri and Sidha Mahavir of Puri and Panchamukhi Hanuman of Cuttack are the most prominent Hanuman Pithas of Odisha. Siruli Mahavir Temple is situated about 33 kms on the north east of Puri town on the way from Puri to Bhubaneswar. The temple is not so important from the architectural point but from the religious point of view, it is one of the important shrines of Odisha.
A huge figure of Lord Hanuman is enshrined in the sanctum who is the presiding deity of the temple. The image is carved on a single piece of stone in standing posture . He holds a short dagger in left hand and gandha mardana mountain in right hand. The figure of Lord Hanumana has been designed in the attitude of destroying Murasura (a demon). Anjana, the mother of Lord Hanumana is carved to the right side of the pedestal. The height of the figure is about 10 feet and made of black chlorite stone. A legend regarding the deity is ever fresh and popular among the locals, the left side eye of Lord Hanuman is set towards Lord Jagannatha temple of Puri and the right eye is set towards Lanka, the native place of Ravana. A Shiva Linga canopied by seven hooded serpent is carved on top of the head of the figure. The figure of Lord Mahavir exhibits Lord Rama and Goddess Sita in his tearing heart.
The temple faces to south and is built with both laterite and sand stones. Two huge lions are installed on both sides of the main entrance gate. The outer walls of the main temple contain figures of Hanumana, Ganesha, Mahisamardini Durga, Siva Linga and bull. The figures of nine planets (navagrahas) are carved above the eastern side entrance of the temple. There is a very old Peepal tree (Ashvastha tree) in front of the temple. Local people say that the temple was built by Anangabhima Deva - III, the Ganga ruler of Odisha.
People have great faith on Lord Mahavir and they attend this Siruli temple in large numbers every day and during various festive seasons. Festivals like Makara Sankranti, Rama Navami, Dola Purnima are observed in this temple with great interest and splendor.
.
.
.
.
#puri #orissa #Odisha #sealda #Howrah #jagannath #temple #lingaraj #buddha #konark #sun
#পুরী #উড়িষ্যা#ওড়িশা #শিয়ালদা #হাওড়া #জগন্নাথ #লিঙ্গরাজ #বুদ্ধ #কোনারক #সূর্য #মন্দির.
#SiruliMahavirTemple
on Thu Mar 08, 2018 4:32 pm
BATA MANGALA TEMPLE


Although Puri has been considered as a famous centre of Vaisnavism, it is also recognized as a sakti pitha. Several sakta temples are located inside and outside of Lord Jagannath temple. There is a sakta temple dedicated to Goddess Mangala on the gateway to Puri. This temple is known as Bata Mangala Temple. This temple is locateded at a distance of 3 kilometers from Atharanala on the road leading from Puri to Bhubaneswar, on State Highway No.8.

The presiding deity of the temple is Goddess Mangala. The deity is very beautiful and has two hands and three eyes. She is sitting in padmasana Posture with smiling face. The two hands are holding pasa and ankusa. She is worshipped in the mantra of Durga and is the same as Mahamangala, Sarva Mangala and Mangala.

In Odia language 'Bata' means 'Way', since Goddess Mangala is enshrined on the way to Shreekhetra, she is known as Bata Mangala. She is believed to guide the pilgrims to Puri. The piligrims and all tourist vechiles used to offer puja and Darshan with all respects at Batamangala temple while entering into Puri and leaving Puri for their safe and happy journey.

At the time of Navakalebara festival of Lord Jagannth, the carts loaded with sacred wood entered into Shreekhetra after performing puja at Bata mangala temple. Famous rituals like Durga Puja, Dussehra, Chaitra Mangalabara etc are observed with great devotion in this temple.
on Thu Mar 08, 2018 4:35 pm
BALI HARACHANDI TEMPLE


Destination Summary
Famous for Temple of Goddess Harachandi and Sea Beach
Nearest Attractions Chilika Lake, Satapada, Alarnath
State/Country Odisha/India
Located at Eastern Coast of Odisha
Distance From Bhubaneswar 60 KM
Distance From Puri 27 KM
Mode of Transport Road (Bus and Taxi)
Nearest Airport Bhubaneswar - 60 KM
Best Time to Visit Round the Year
Local Language Odia
Other languages Hindi, Bengali and English

Puri, the abode of Lord Jagannath, which is celebrated as a Vaisnava centre is also famous for its Sakta temples. Both inside and outside the premises of famous Jagannath temple there are several temples dedicated to Sakta deities such as Ramachandi, Laksmi, varahi, Harachandi, Daksina Kali, Shyamakali, etc. which indicates the popularity of Saktism at Puri. There is a temple dedicated to goddess Harachandi at 27km south west of Puri on the national highway 203 leading from Puri towards Brahmagiri and Satapada. On this road there is a place known as Kathuari chowk, from this chowk take a left diversion and after 5 kilometers you will reach village Palanka, this temple is located at a distance of 1 kilometer from the village Palanka. In Odia language 'Bali' means Sand & 'Harchandi' means angry form of Goddess Durga. This temple is dedicated to Goddess Durga and is mounted on a sandy hill near the ocean. Beach is very near to the temple which is another major attraction of this place. The exact geographical location of this temple is LONGITUDE 850 41' 39 E and LATITUDE 190 45' 28 N.

The temple is facing towards the east and the presiding deity is Asta-Bhuja (Eight-Armed) Mahisamardini Durga worshipped as Baliharachandi. Baliharachandi is also regarded as goddess of water and navigation, who protects the boatsman and fisherman, when confronted with danger in the sea. This temple has relation with the Sri Jagannath temple in respect of a ritual on the Mahanavami day in the month of Ashwina. Festivals like Navaratri, Durga Puja, Chaitra Mangala Bara, Ramanavami etc. are observed in this temple with great devotion. An image of Goddess Kali is found at the base of the back Rahapaga of the Baliharachandi temple near Puri. Here Kali holds a serpent. She holds a skull and a severed head by her left hands. She stands in Alidha pose on the body of Lord Siva. Baliharachandi temple is a protected monument of Odisha State Archaeology and under the Endowment Department, Government of Odisha.

Baliharachandi temple located at the beginning of the river Bhargavi is not just a pilgrim site but also a scenic spot. This place is also famous for stretches of sandy beach and the meeting point of river Bhargavi with the Sea. It attracts lots of tourist to enjoy the natural site of beach and to seek divine blessings and eternal happiness. The sunrise and sunset scene of beach is amazing for touristis. The tourists can also enjoy sunbath on the calm and quite sea beach of Baliharachandi. The scenic beauty of this place is ideal for group picnic. Baliharachandi, the well known tourist destination of Odisha, is worth a visit.
on Thu Mar 08, 2018 4:37 pm
RAMACHANDI


Destination Summary
Famous for Temple of Goddess Ramachandi, Sea Beach
Nearest
Attractions Konark, Chandrabhaga, Kakatpur, Kuruma, Chaurasi, Balighai, Beleswar
State/Country Odisha/India
Located at Eastern Coast of Odisha
Distance From Bhubaneswar 70 KM
Distance From Puri 28 KM
Mode of Transport Road (Bus and Taxi)
Nearest Airport Bhubaneswar - 70 KM
Best Time to Visit Round the Year
Local Language Odia
Other languages Hindi, Bengali and English

The temple of Goddess 'Ramachandi' on the river mouth of Kushabhadra river is a splendid scenic picnic resort. It is situated 7 kms before Konark on the Marine drive road from Puri to Konark. Ramachandi is popularly beleived the presiding deity of Konark, and the most benevolent Chandi known. It is certainly more ancient than the Sun temple at Konark. From the architectural point of view, the temple of Ramachandi is not important but from the religious point of view, it is one of the famous Sakta pithas of Puri.

A graceful Chandi, seated on a lotus in a small temple half hidden by sand mounds, on the river mouth of 'Kushabhadra' and the endless Bay of Bengal stretched to eternity, and a thick growth of Casuarina plantation around is the scenic maginificence of the place. Before construction of the Marine drive road, the place was not accessable to out side visitors. However it attracted large number of local devotees to offer sacrifices 'Bali' in the month of Ashwna Picnicking at Ramachandi was then a youthful feat. The romantic sight has always fascinated young lovers, students and picnicking troups from far wide besides a handful of professional fisherman who exploit inhabitants. However after the construction of the Marine dive road, the place has become very easily accessable. We see regular crowd of pleasure seekers both from the neighbour hood and distant places every day.



A legend regarding the deity is ever fresh and popular among the locals. "Kalapahada" the rebel Hindu Brahmin Youth turned islam, vowed to destroy all the temples of Hindu worship during 17th Contury. After destroying the Sun temple, Kalapahad approached to Ramachandi temple to destroy it. Then Goddess Ramachandi dressed as a Maluni (maid servant) asked Kalapahad to wait at the door till she bring water from the river for the Goddess. Kalapahad anxiously waited for a long time to get some cold water. When it was too late and the Maluni did not return he exhausted and entered inside the temple and found the throne empty. Then he thought the Maluni took away the deity with her and with anger he followed the Maluni. When he reached the bank of the Kushabhadra river he found the goddess Ramachandi floating in the middle of the river. At that time the river was outpouring, so he came back without able to reach the middle of the river. Then Goddess Ramachandi came in dream of a panda (priest) and told him to built a temple on the bank of the Kushabhadra river. This place is now known as Ramachandi. Through out the year many visitors come here to get the blessing of Goddess Ramachandi and to enjoy the scenic beauty of river Kushabhadra and Bay of Bengal.
on Thu Mar 08, 2018 4:40 pm


Banpur Bhagabati Temple

Goddess Bhagabati,the presiding deity of the place Banpur has earned celebrity as a centre of religious activities.Once it was the Capital of Sailodhvaba dynasty,responsible for the construction of the early group of temples at Bhubaneswar.The large number of Buddhist images discovered at Banpur relate the place to the Vajrayan clut of Buddhism.The temple of 'Daksha-Prajapati' is a fine specimen of extraordinary artistic excellance of Odisha art.Banpur is 8 kms. from Balugaon and 105 kms. from Bhubaneswar.
on Thu Mar 08, 2018 4:44 pm
BRAHMAGIRI ALARNATH
Destination Summary
| | |
| --- | --- |
| Famous for | Temple of Lord Alarnath |
| Nearest Attractions | Chilika Lake, Baliharachandi, Satapada |
| State/Country | Odisha/India |
| Located at | Eastern Coast of Odisha |
| Distance From Bhubaneswar | 67 KM |
| Distance From Puri | 25 KM |
| Mode of Transport | Road (Bus and Taxi) |
| Nearest Airport | Bhubaneswar - 67 KM |
| Best Time to Visit | During Anavasara Period of Lord Jagannath |
| Local Language | Odia |
| Other languages | Hindi, Bengali and English |
Lord Alarnath temple in Brahmagiri, around 25 km from
Puri
, is not a big tourist destination but a famous religious place for all Krishna devotees. It is explained that in Satya Yuga, Lord Brahma came and worshipped Lord Vishnu here on top of a hill. One day Lord Vishnu appeared and said, "I am very pleased with your worship. Make a four-armed Deity of Me holding shankha, chakra, gada, and padma (conch shell, disk, club, and lotus). The Deity should be made from a piece of black stone. Also install a Deity of Garuda". Lord Vishnu also said, "This place will be called Brahmagiri (Brahma's hill) because you have worshipped me here". According to mythology, the rulers of Alwar in Rajasthan had established the temple here. The temple was later known as Alwarnath or Alarnath.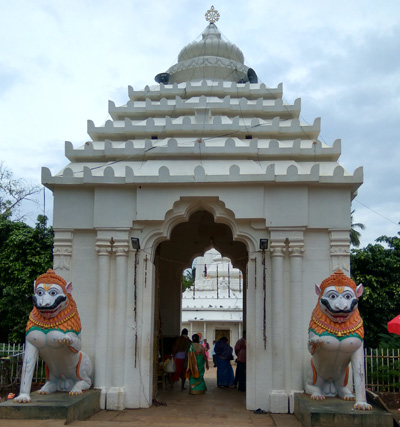 Entrance Gate of Alarnath Temple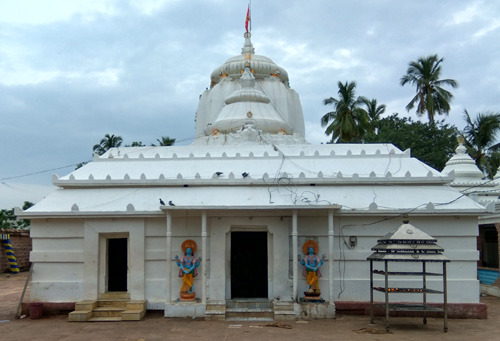 Lord Alarnath Temple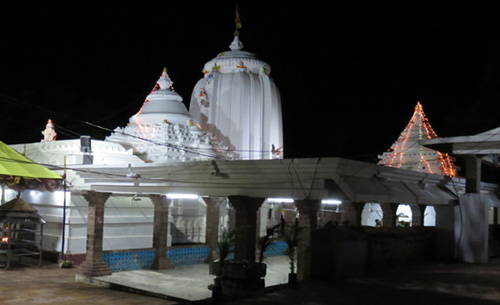 Lord Alarnath Temple Night View
Long yesrs back (in 1610 A.D) Lord Chaitanya Mahaprabhu stayed at Alarnath during anavasara period of
Lord Jagannath
. Anavasara is the two weeks period when Lord Jagannatha take rest in isolation from the rest of the world after suffering from fever due to the annual bathing festival (Snana Yatra). Lord Chaitanya claimed that he visualised the appearance of Lord Jagannath in Alarnath and spent a long period in worshipping the deity here. It is believed that those who can not worship Lord Jagannath during his stay in the sick chamber can get the blessings of the deity if they visit the Alarnath temple. During this period the temple servitors offered holy porridge (rice pudding sweetened by jaggery), known as 'Kheer' in local language, to the lord. During anavasara period of every year thousands of devotees visit Alarnath temple to get the blessings of Lord Alarnath and to taste a pot of famous holy 'Kheer'.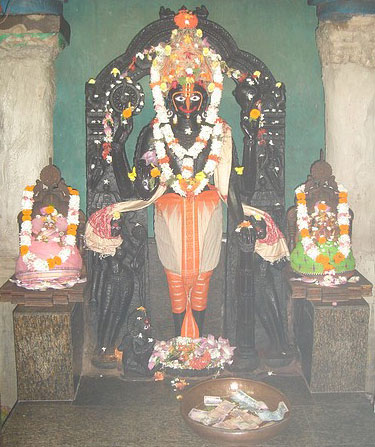 Presiding Deity Lord Alarnath
There is a beautiful myth about the 'Kheer' bhog. One day a child devotee prayed to the lord with great devotion and offered hot kheer. The lord in hurry dipped his fingers to take pleasure of the kheer and his upper right hand's fingers got burn. It is clearly visible and on your request the Priest will also show you the brunt fingers.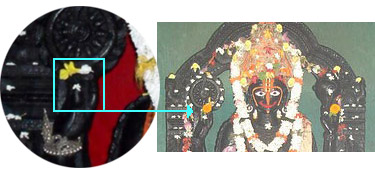 Lord Alarnath with his burnt fingers highlighted
In this temple Lord Vishnu is worshiped as Lord Alarnath. The deity has four arms. He holds chakra in his upper right hand, Lotus in his lower right hand, Conch in his upper left hand and club in his lower left hand. Lord Vishnu's carrier eagle, known as Garuda, kneels at the feet of the deity with his hands folded in prayer position. The deities of Lord Krishna's queens Rukmini and Satyabhama are also find inside the temple. Deity of Lord Chaitanya is also found inside the temple. There is a stone slab in front of the deity which bears impressions from Lord Chaitanya's body. When Lord Chaitanya first lay in full respect in front of Lord Alarnath, the stone below Lord Chaitanya melted from His blissful touch. There is a lake behind the temple where Chandan Yatra (Sandalwood Festival) is celebrated for 21 days every year.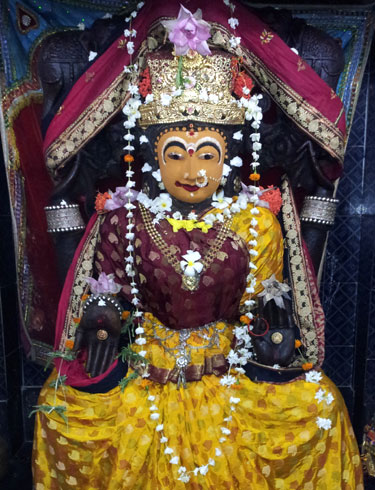 Goddess Laxmi at Alarnath Temple Compound
There is Goddess Lakshmi temple inside the Alarnath temple compound. The Goddess has four arms and looks very beautiful. Drashan of Goddess Laxmi gives a sense of inner peace.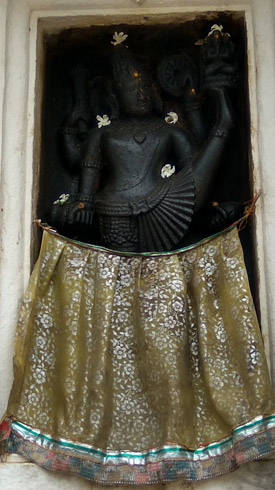 Deity on Side Wall of Alarnath Temple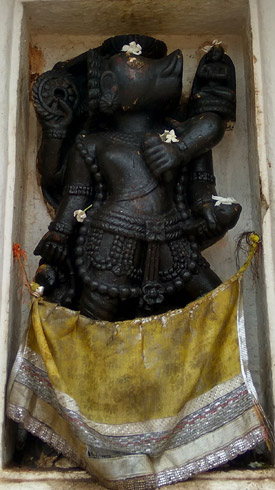 Deity on Side Wall of Alarnath Temple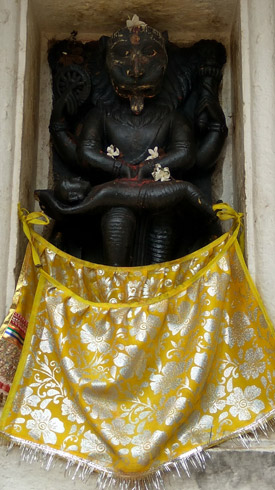 Deity on Side Wall of Alarnath Temple
on Thu Mar 08, 2018 4:53 pm
KAKATPUR MANGALA
Destination Summary
| | |
| --- | --- |
| Famous for | Temple of Goddess Mangala |
| Nearest Attractions | Konark, Kuruma, Chaurasi, Chandrabhaga, Ramachandi, Beleswar, Balighai |
| State | Odisha |
| Country | India |
| Located at | Eastern Coast of Odisha |
| Distance From Bhubaneswar | 65 KM |
| Distance From Puri | 50 KM |
| Mode of Transport | Road (Bus and Taxi) |
| Nearest Airport | Bhubaneswar - 65 KM |
| Best Time to Visit | Round the Year |
| Local Language | Odia |
| Other languages | Hindi, Bengali and English |
Kakatpur is a small village in Puri District and is situated at a distance of 50 kms from
Puri
, on the Puri-Astaranga road. Situated on the bank of river Prachi, this temple is famous for Goddess Mangala. Goddess Mangala is the presiding deity of Kakatpur and is worshipped in this temple.
There is a famous story behind the evolution of the name of the deity as 'Kakatpur' Mangala and believed by the local people. Goddess Managla kept herself hidden under the deep water of river Prachi. Once a boatman was sailing his boat across river Prachi. At that time the river was outpouring and flodded so he was unable to sail his boat to the middle of the river. He spent whole day and night but not able to sail his boat and during early morning, before the dawn,

Goddess Mangala came in his dream and asked him to recover her from the water and to establish her in nearby Mangalapur village. The boatman dived into the water and able to find the deity from the bed of the river. Then as per the direction of the Goddess he established the figure of the deity in a temple in Mangalapur village. After this the boatman saw a black crow dived into the water and did not come out of the water for hours and days, the crow detained inside the water of river Prachi exactly in the same place from where he recovered the figure of Goddess Mangala. In local Odia language 'Crow' means 'Kaka' and 'Detained' means 'Atka'. So by combining the two words it becomes 'Kaka-Atka', so during the course of time the Mangalapur village is know as 'Kakat' (Kaka-Atka) pur and the Goddess is known as Kakatpur Mangala.
Kakatpur Mangala temple has a close relation with
Lord Jagannath
temple of puri during the
Navakalebara
(Renovation of the
Deities
) festival. Old deities are buried under earth at the dedicated place inside
Jagannath temple
and new idols are created for Lord Jagannath, Lord Balabhadra and Goddess Subhadra. The new idols are created from a sacred wood known as '
Daru Brahma
' in local language. Nobody knows from where to find the sacred wood to create the new idols, so as per the tradition the priests of Lord Jagannath temple come to Kakatpur Mangala to pray the Goddess to help them to find the sacred wood. The priests seelp in front of the Goddess with their face down and then Goddess Mangala come in their dream and tell the exact location of the three sacred trees for the three deities. This custom has been performed from years together without any deviation. This shows the power and energy of Goddess Mangala and her blessings for her devotees.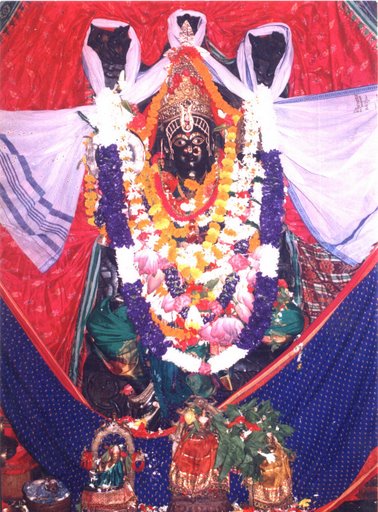 Presiding Deity Goddess Mangala
The most popular festival of Goddess Mangala is 'Jhamu Yatra'. It occurs on the first Tuesday of the Secred month Vaisakh (April 14 to May 15) every year. On that occasion devotees collect sacred water from river Prachi and pray the deity to get her blessings, then with the earthen pot , filled with sacred water, on their soldier, they are able to walk on the surface of burning fire spread on a long channel on bare feet. Due to their faith on Goddess Mangala and their Mother's blessing on them, the devotess are unhurt and uninjured while perferming such a risky custom. Every year thousands of devotees come to Kakatpur to celebrate the Jhamu festival.

JHAMU YATRA PHOTOS




on Thu Mar 08, 2018 4:58 pm
SAKHIGOPALA SAKSHIGOPAL
Destination Summary
| | |
| --- | --- |
| Famous for | Temple of Lord Krishna |
| Nearest Attractions | Raghurajpur, Siruli, Pipili |
| State/Country | Odisha/India |
| Famous Events | Anla Nabami, Dola Purnima |
| Located at | Eastern Coast of Odisha |
| Distance From Bhubaneswar | 41 KM |
| Distance From Puri | 19 KM |
| Mode of Transport | Road (Bus and Taxi), Rail |
| Nearest Airport | Bhubaneswar - 41 KM |
| Best Time to Visit | Round the Year |
| Local Language | Odia |
| Other languages | Hindi, Bengali and English |
One of the sacred tourist destination of Odisha, Sakhigopal (alternatively spelt as Sakhigopala) is a village of historical importance which is situated 19 kms. north of
Puri
on the way to Bhubaneswar. It is the most famous spot os Odisha for cocoanut industry. The singular national importance of the place is the famous Sakhigopal temple. It is one of the top calibre krishna temple of the country. It is a saying that unless Sakhigopal is visited the piligrimage to Puri is not complete. There is a large influx of piligrims on festive days like Anla Nabami, Dolapurnima,
Chandan Yatra
, Kartika Purnami, etc. Sakhigopal means witness Gopal.
There is very popular legend behind the name Sakhigopal. Two brahmins of Vidyanagar of south India went Brindaban on piligrimage. There the elderly one fell ill and was attened very sincerely by the younger. The elderly one promise the other keeping Lord Krishna as witness that on reaching their native place he would offer his beautiful daughter to the younger in term of marriage. Unfortunatly when both of them reached their native place the elderly one expressed evasive replies. The younger one was assured that due to low status of brahmin caste he was misfit for his lovely daughter.Without delay he again went to brindaban and worshipped Lord Krishna.However in the long run Krishna agreed but he told that the brahmin would walk ahead and he would follow him,but the strict instruction was the brahmin should not look back,otherwise he(Lord Krishna) would remain then and there.Lord assured that the brahmin would hear the sound of Nupura(sweet sound producing bracelet used by dancers arround ankel).Lord followed the brahmin to vidyanagar. On the way they were to cross the river Godavari.Due to sand the feet of Lord were dipped and no sound from Nupura was heard.The brahmin was too restless and apprehensive to look back.Lord stood on sand and did not move.The brahmin immediately ran to Vidyanagar and called the local people in good numbers.all were stunned to see the statue of Lord Krishna of Brindaban.the elderly brahmin repented and attested his promise by giving his daughter in marriage to the younger one.The local king developed great devotion and constructed one temple then come there at the sopt and designated as 'SAKHIGOPAL'.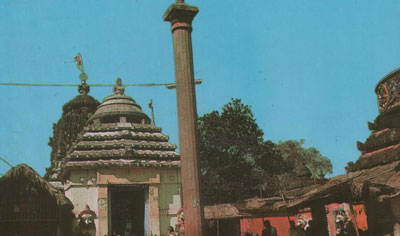 Temple of Lord Krishna in Sakhigopal
The Gajapati King of Odisha Sri Purusottam Dev brought the statue from Vidyanagar after the place eas conred by him (1467 to 1495).The King installed the statue at his fort at CUTTACK which was worshipped by Lord Chaitanya on his way to Puri.After muslim invasion the statue was shifted from place to plale by the Khurda chiefs and at last it was stationed at ALASA.It is told the other name of Sakhigopal is Alasa,but at present there is small village called Alasa near Sakhigoal. One Brahmachari raised huge donations and raised a temple (60 feet high) in 1860.Initially there was one statue of Krishna.
At a later stage due to influence of Gita Govinda (written of Jayadev) people accepted the dual sculpture of RADHA KRISHNA,which is otherwise known as 'JUGALMURTI' and accordingly the King of Ranpur of Puri district offered one statue of Radha to have been conjugated with Lord Krishna.The height of Lord Krishna is 5 feet and that of 'Devi Radha' is slightly more than 4 feet.It is now also told during moonlit nights at the near by Bakulbana people have watched the glamourous love-play of Lord Krishna-Radha and Gopis. The temple is managed by Government of Odisha since 1939.

Permissions in this forum:
You
cannot
reply to topics in this forum