Sights and Activities

India's most famous attraction, the
Taj Mahal
, is a mausoleum in Agra that was constructed under Mughal Emperor Shah Jahan in memory of his favorite wife, Mumtaz Mahal who died after giving birth to their son.
Agra Fort
The imposing Agra Fort at Agra is something which should not be missed. The construction of this fort was started by Mughal Emperor Akbar and later on additional building were added by his son and grandson. The fort complex has numerous building of importance like the Moti Masjid, Sheesh Mahal, Jehangir's Palace, Deewane-E-Am and Deewane-E-Khas.
Kerala
The state of Kerala, divided into 14 districts has emerged as one of the hottest tourist destination in India over the period of years. This place is also famous for its Backwaters. Kerala's culture cannot be confined to a specific race or a custom, its composite in nature with its religious traditions, festivals, performing arts (dances, ballets, opera) music, martial arts, paintings, arts and crafts, The cultural heritage of Kerala is also revealed in its varied costumes and cuisine.
Khajuraho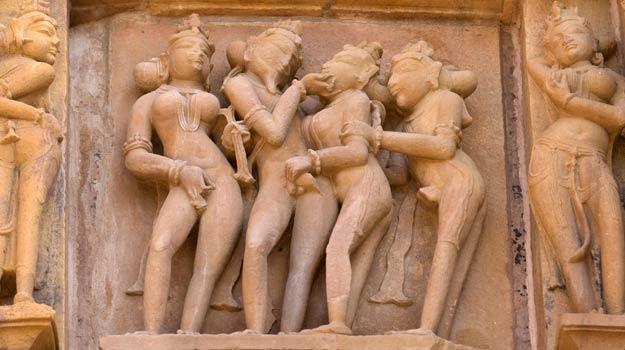 Khajuraho is a town located in Madhya Pradesh famous for groups of Hindu and Jain temples. These temples are a UNESCO World Heritage Site for their beautiful and erotic rock carvings. About 20 temples remain today, dating back to the 10th and 11th century A.D.
Dharamsala/McLeod Ganj
Dharamsala/McLeod Ganj is located in the Kangra district of Himachal Pradesh. Situated on the Dhauladhar Range, whose highest peak, "Hanuman Ka Tibba", at about 5,639 metres, lies just behind it, it is known as "Little Lhasa" or "Dhasa" (a short form of Dharamsala used mainly by Tibetans) because of its large population of Tibetan refugees. The Tibetan government-in-exile is headquartered in McLeodGanj.
Shimla
Shimla is the capital city of Himachal Pradesh. In 1864, Shimla was declared the summer capital of the British Raj in India. A popular tourist destination, Shimla is often referred to as the queen of hills. Located in the northwest Himalayas at an average altitude of 2,205 metres, the city of Shimla, draped in forests of pine, rhododendron, and oak, experiences pleasant summers and cold, snowy winters. The city is famous for its buildings styled in 'Tudorbethan' and neo-Gothic architecture dating from the colonial era.
Wildlife watching
India is one of the best countries outside Africa and probably the best in Asia to watch wildlife. Wildlife include the Asian Big Five (leopard, lion, elephant, rhino and asian buffalo) but there is one animal that even is more impressive and elusive. That animal is the tiger and seeing one is a matter of luck and staying long enough in several national parks that offer this opportunity. Kanha National Park and Bandhavgarh National Park in Madhya Pradesh are among the best in the country with the highest density and chance to see this massive cat. Also, Pench and Panna Reserves are well worth a visit, though numbers of tigers have been decreasing enormously here during the last years. It is believed that Panna even lost of all its tigers due to poaching, just like Sariska reserve before. Although Ranthambore is equally famous, tiger population here has dropped recently due to poachers still active in the area. Also the Corbett National Park, around 240 kilometres north of Delhi, at the foothills of the Himalayas, is a good place to see a tiger, though you have to spend some time here and be lucky.
Many other wildlife can be spotted as well in many of the parks, including wild boar, sloth bear, rhino, elephant, gaur, Indian Gazelle, wild dogs and striped hyena. In the mountains, the very elusive snow leopard lives at altitudes of 2,000 metres upwards.
Four other parks to be visited which, because of its outstanding natural beauty and significance, are on the Unesco World Heritage list as well. These are Kaziranga National Park and Manas National Park in the northeastern state of Assam, the Sundarbans National Park, which India shares with Bangladesh and the Keoladeo National Park in the Bharatpur district of Rajasthan, which is particulary interesting because of its birdlife, including the rare Siberian crane.
Sasan Gir National Reserve in Gujarat is the only place in Asia which has Asian lions. Plans to relocate some lions to other reserves have not been succesful, because of resistance of local people.
The Sundarbans
The Sundarbans mangrove forest is one of the largest forests of its kind and is located in the west of India and the southwest of Bangladesh on the delta of the Ganges, Brahmaputra and Meghna rivers on the Bay of Bengal. The Sundarbans are shared with Bangladesh and form a UNESCO World Heritage Site. It contains a complex network of tidal waterways, mudflats and small islands of salt-tolerant mangrove forests and has a high biodiversity with a wide range of flora and fauna. Animals include 260 bird species, the Royal Bengal tiger and other threatened species such as the estuarine crocodile and the Indian python. Some of the wildlife though is very elusive and it is a matter of luck for example to see a tiger. It is best to arrange tours from Dhaka or Kulna which can last for a week if you want.
Rajasthan
Rajasthan is one of the most visited parts of India and it has several great cities to visit, including Jaisalmer, Jaipur, Udaipur and Jodhpur. All these cities have their own characteristics, fortresse, maharadja palace and even colours (pink city, blue city). A trip by camel in the Thar desert also is a fantastic experience.
Varanasi
According to Hindu mythology, Varanasi is considered to be one of the holiest cities in India. It lies along the banks of the sacred Ganges River, and it's believed that taking a dip in it washes away all the sins and purify the soul.
Thar Desert
The Thar desert is arid region in the northwest of the Indian subcontinent. It covers much of Rajasthan, extending from here into the southern Haryana and Punjab states and into northern Gujarat state. Apart from India, it also covers the astern Sindh province and southeastern Punjab province in Pakistan. The Sutlej and Indus Rivers and Aravalli Range and Rann of Kutch form its natural boundaries. It is a hilly desert, with large areas of sand dunes, although the central part is more of a plain with no dunes at all. Unlike much of India, it hasn't got a monsoon season as wet as other parts of the country, although also here the wetter months are from July to October. It's also a good region to see lots of animals typical for this part of India and there are some interesting cities within its boundaries as well, including Jodhpur and the 'capital' of the desert Jaisalmer, where camel rides into the desert are one of the more popular trips.
Leisure time
Newspapers including the Hindustan Times and The Times of India carry daily and weekly listings and information on interesting events. For Delhi, Mumbai, and Bangalore the famous Time Out magazine is published and gives you lots of ideas of what is up in the city. In Delhi, for example, there are other local magazines such as First City and Delhi Diary. There are plenty of interesting music concerts and parties, such as the Sound Tamasha series of events.
But also outside of the cities India has a very lively cultural scene. If you are willing to adjust a little bit, you will be able to make the most of the local festivities and religious observances you are most likely to encounter. Ask around to learn about things that are happening. Often you will end up being a guest of honour at a marriage or shaking a leg during some lively celebrations.
Even if you are mainly visiting one of the big cities, make it a point to see the surrounding rural areas. You will be stunned by the many natural marvels and genuine peasants and herders you are going to meet there. Do not feel intimidated by their traditions. Indians tend to be very curious by nature. Your visit to the most far-off places will generally not be perceived as an intrusion - quite the contrary: people will seize the opportunity and pour all their curiosity on you.
Sports
In India sports like cricket, football, field hockey, and golf are very popular and spread around the whole country. Visiting a fitness centre might be a good possibility for you to do sports. Jogging can also be done, even in the big cities like New Delhi or Mumbai. There are uncounted parks and gardens such as the beautiful and serene Lodi Garden in New Delhi which is really a jogger's paradise. There you will be able to escape the chaos of the cities and have a moment of peace and quiet. Big cities also have large sports complexes with various facilities like swimming pools, tennis and squash courts, football fields, gyms, running tracks, etc.
Other Sights and Activities
   Andaman and Nicobar Islands - India's version of a tropical getaway with indigenous tribes, beaches and jungle.
   Ladakh is the place to be for hiking in the Himalaya Mountains and is the best place to see Buddhist monasteries.
   Goa is a hippy paradise with beaches that is great for relaxing and nothing else.
   Sun Temple is an UNESCO World Heritage Site in Konark, in Orissa, on the Bay of Bengal.
   Sikkim and Darjeeling: Enjoy the ride with the toy train up in the mountains of Darjeeling and Sikkim.
   Hampi Temples in central southern India (Karnataka).